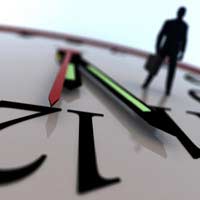 Flexible working has become more popular over recent years due to the changing needs of customers and employees. Many employers think that it's a sensible move and brings numerous improvements.
Advantages for Employers
Flexible working creates greater cost-effectiveness and efficiency, such as saving on overheads when employees Work From Home or less downtime for machinery when 24 hour shifts are worked. It also attracts an increased skills base to the workforce as the business is able to recruit and retain a more diverse workforce. There is more job satisfaction and better Staff Morale.
It can also promote a greater continuity of staff who might otherwise have left due to other personal commitments and who can be offered suitable flexible hours which suit their needs. Many employers find that a better Work/ Life Balance has a positive impact on staff retention, employee relations, motivation and commitment. A by product of all this is that customers reap the benefits too and show a higher degree of satisfaction and loyalty as a result. A company can also remain more competitive if they adopt flexible working practices as they can react to sudden changes in market conditions more rapidly.
Advantages for Employees
Flexible working practices offer increased opportunities for employees to fit in Family Commitments and activities around their hours of work and make better use of their free time. This is useful for those who have children or who may have to care for other dependants but others may find flexible working helpful too. It might help people manage their workloads more effectively, lessen the stress of commuting at peak times and many employers find that sickness and absence levels fall as a result.
Advantages for Customers
Customers benefit as a result of a more motivated workforce who are more likely to provide them with excellent customer service. In addition, more flexibility often means longer opening times, more experienced staff and a better overall service.
Different Types of Flexible Arrangements
Flexible work patterns can be established in a variety of ways. They can include the following but there are numerous alternative flexible arrangements in addition:
Part-time working – workers are contracted to work less than the basic full-time hours
Flexi-time – workers have the freedom to work in any way they choose outside a set of core hours established by their employer
Job sharing – one full-time job is split between 2 workers who work out their shifts between themselves
Shift swapping – workers work out shifts amongst themselves but still ensure that all shifts are covered
Time off in lieu – workers take time off to suit to compensate for extra hours worked
Teleworking/home working – workers spend all or part of their week working from home or somewhere else away from their employer's premises
The Law on Flexible Working
From 30 June 2014 every employee has the statutory right to request flexible working after 26 weeks employment service.
Although an employer may not accept the requests in these cases, a strict procedure must be followed and only a small number of justifiable grounds would be acceptable in an employer's decision to refuse the request. If an employer cannot suitably justify why they will not permit flexible working, the employee can take their case to an Employment Tribunal. More details about this can be found on the ACAS website.