It can be stressful when your employer changes your working hours. You might be wondering if you have to work more than your contracted hours? Perhaps you are worried about proposed changes to start and finish times, or working days?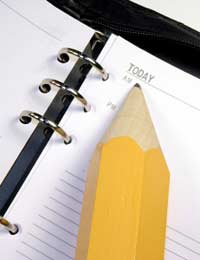 Our guide will help you understand the regulations around contracted working hours, and your rights as an employee in the UK. We'll walk you through the steps to help negotiate with your employer.
---
What Are Your Rights When Working Hours Are Changed?
When confronted with a change to regualr working hours, many employees want to know if their employer or manager is allowed to make the changes to their work schedule.
There are a number of things to look at when you find yourself in this situation.
The first thing you need to do is:-
Check Your Contract For Working Hours & Days
For any issue regarding your employment, it is really important to look at your contract.
If you are unhappy with a proposed change to your rota, it's important to check what was said in your employment contract when you started your job.
You should have been provided with a copy of your contract at the point when you started your job.
If you were not provided with a copy, ask for one.
If you have lost your copy, you are still entitled to see your contract. Your employer should hold one in your employee file.
If the contract refers to any other procedures (such as disciplinary procedures) or terms and conditions of employment, this forms part of your contract. You are entitled to see these documents too.
Your contract may state what days and times you and your employer agreed that you would work. If this is the case, your employer must agree a new work contract with you.
---
Can Your Employer Change the Days You Work On?
If your workplace wishes to change the days and times of your shifts, you might be wondering if it's legal for an employer to change your working hours in this way.
In many cases, an employer can change working hours and days within UK employment law. However, there is a process they must follow, and there are requests to alter working hours which they must properly consider.
Related: Is Saturday a working day? | Full Time Working Hours Vs Part Time
---
Understand Your Contract – Fixed Days vs Shift Work
The main difference between fixed day and shift work is that if you have fixed days, your contract will specify what days and times you are to work.
If you work shifts where your employer puts up a rota to tell you when you are working, your hours or days of work are usually not specified in your contract.
If your hours are specified in your contract, our guide on dealing with your employer changing your work contract will give an overview of your rights and help navigating the process.
---
Can Your Employer Reduce or Increase Working Hours?
If you're happy with your working hours, it can be understandably stressful if your employer wants to reduce or increase them.
If your contract does not specify how many hours you work, which is often the case with zero hour work contracts, then your employer can vary your working hours.
However, if your contract specifies how many hours you work, then they'll need to renegotiate your contract with you.
See Also:
---
Changes to Working Hours – Case Studies
There are a number of ways in which your employer or manager might ask you to make changes to your working hours.
Each situation has different laws and rights which you need to be aware of when discussing with your workplace. We've created some mini case studies based on common reader's questions.
These will help you understand common situations and how they would be dealt with under UK laws on work rotas.
---
Case Study – My Employer Wants Me to Work More than My Contracted Hours & Weekends
I have a contract for 21 hours and my employer has just told us we are having a delivery every day Mon-Sunday for xmas. They have said if we don't work these days we will be disciplined.

I work Monday to Friday and they have told us we have to work Saturday and Sunday night. If we have a contract of 21 hours do we have to work over our contract hours? I have 3 young children. I can't get childcare and I am worried I might lose my job because I'm unable to do the extra hours.

Sarah M, via email.
Your rights in this situation are varied. There are changes your employer can legally make within acceptable limits.
You cannot be forced to work over the number of hours in your contract and can refuse to do so. However, you must check what your work contract says about overtime. There may be a clause saying something like "A reasonable amount of overtime may be required to meet the needs of the business."
If you do not work the full number of hours stated in your contract without good reason then your employer may discipline you.
If you object to the number of hours you have been allocated, it is always best to speak to your employer as soon as possible.
You can't work Mon-Fri and then say you have done your hours so you are not working at the weekend. Your employer may choose to reduce your hours during the week, and allocate extra hours on weekends.
You have the right to request flexible working hours so long as you have worked with your employer for more than 26 weeks.
You cannot be made to work more than 48 hours a week as per the Working Time Directive regulations unless you have opted out.
---
Employer Making Changes to The Shifts You Work
There are many scenarios under which you might have changes made to the shifts you're being asked to work.
Here are 3 common examples based on reader's questions and an overview of the law and rights at play in each scenario.
---
Case Study 1 – My Employer is Changing My Rota From Dayshift to Nightshift
I've been working for a company for 11 years since it started. I have been working day shifts because they told me that the night shift is too risky for ladies.

Now they said I must work the night shift without any reason or agreement. I haven't worked a night shift before and I have two children who are 5 & 9. My husband works nights so cannot look after them.
What times and days you have to work will depend on your contract.
If your contract states that you are available to work any time, unfortunately you can be called upon to work on different days or hours than your usual work pattern.
If your availability has changed, you need to discuss this with your employer. A new contract may need to be signed with this change reflected.
---
Case Study 2 – My New Working Hours Mean I Can't Get to Work on Time
I have been working late afternoons and evenings into the night due to the nature of my work. The place I work has very bad public transport connections and absolutely no public transport after my work finishes.

Now my employer has asked me to come in early one day a week because it would suit them better. This would be really difficult for me due to transport problems. Can my employer force me to change my hours?Can they give me a warning or fire me if I can't accommodate them?
If your contract limits your working hours or days i.e from 9am to 5pm, your employer can request that you change these hours.
Should you be unable to change your working hours, your employer cannot force you to do so.
If your contract does not specify your working hours, then unfortunately your employer can make these changes.
It is always worth discussing any requested changes with your employer. You may be able to agree a compromise that suits you both better. It's not in the interests of either party to create a situation where an employee will struggle to get to work.
---
Case Study 3 – My Employer Has Added Nights to my Rota & I Have Childcare Issues
I work for a care company. I work 6 days and 1 evening, and I have 2 children under the age of 16. Today I was told that next week and future weeks I will be doing 4 days and 2 nights. However, nobody else has had this text.
Can my manager do this? Really worry as I have nobody to watch my kids at nights.
Clearly child care is a major concern in relation to working hours for many workers.
If you have any concerns this should be discussed with your employer. It may be that there is another employee who is more able to work evenings and nights.
As above, if your contract states that you can work these times, your employer can rota you accordingly.
You have the right to request flexible working in regard to childcare issues.
---
Requesting Flexible Working
If your workplace is changing your hours to a rota that causes problems, you can request your needs be met. All workers have the right to request flexible working to accommodate other commitments.
To have the right to request flexible working you must:-
a) have worked for the company for at least 26 weeks.
b) not have made a flexible working request already in the last 12 months.
Be aware that your employer does not have to agree to this. They must give your request serious consideration and give you reasons in writing for any request being denied. In some businesses, flexible working may not be feasable. Try to be reasonable and try to agree times that suit both you and your employer.
Note the flexible working policy is extended to all workers and not just carers of children.
You can also use a flexible working request to formally ask your employer to reduce your working hours if your circumstances have changed.
A flexible working request can only be refused for a defined set of reasons.
This means it offers workers a fair process. Informal requests can simply be refused.
---
Notice of Working Hours and Shift Changes
Your employer must give you reasonable notice of any changes to your working hours, such as cancelling your shifts.
They may request last minute changes, such as ringing you that morning to say that they do not require you to work.
You can choose to agree to this change. However, if you are not given reasonable notice of your shift being cancelled or shortened, you can refuse this reduction in your hours.
---
What is Reasonable Notice of Shift Changes?
How much notice is "reasonable"? There is no law defining reasonable. However your employment contract may state this.
In most cases, a minimum of 12 hours notice would be expected as reasonable notice to cancel a shift. It may be reasonable to have more notice of a requirement to work rather than a shift being cancelled.
---
Case Study:-
My employer normally gives out the next week rota normally on the Thursday. It seems to be getting later and later. It is now Friday and we still haven't had the rota for next week. Can they do that?
It is often a problem for those who rely on a rota for their working days or hours that the rota is not put up until near the end of the week before. This then gives you only a few days notice of any early-week shift.
Unfortunately, unless specified in your contract, the only guide is what is "reasonable". If this causes you problems however, ask your employer about this. Often the rota will be in draft form "subject to minor alterations" many weeks in advance. If you will not be in work on days to know when you are working, you can also always ring up to ask.
Obviously if rotas are put up last minute across several weeks, you may need to speak to your employer. However if it is a one-off and only a day later, do be reasonable. Has your manager been away ill or had another reason to not be able to put up the rota as early as normal that week? If the late notice causes you substantial problems, communicate with your Manager.
---
What to Do If Your Employer is in Breach of Contract
If your employer is in breach of your employment contract (e.g. not giving you your amount of contracted hours), what can you do?
The first step is always to talk to your employer or manager. It may be a simple mistake which can easily be rectified by amending the rota.
If you are unhappy with your manager's response to your complaint, follow your company's complaints procedure. This often requires you to forward your complaint to a more senior manager.
If you do not know your employer's complaints procedure, ask to see a copy of it. If your company has an HR Department, they may also be able to provide you with guidance on the procedures. You are often entitled to have a supporter present, such as another employee, which can be reassuring at any meeting.
It is always best to try to resolve matters "in house" with your employer. If you are not able to do so, you can take your employer to an Employment Tribunal. Be aware that whilst you can't be fired for doing so, this may make for an awkward working environment if you are still employed at the firm.
If your employer is proposing changes to your contract and you don't agree, read our guide to Objecting to Changes in your Employment Contract.
---
Employment Tribunals
An employment tribunal is an independent body that will assess your complaint and may make your employer pay you compensation if they think your rights have been breached.
You usually have to apply to the employment tribunal within 3 months of the incident you are complaining about arising (e.g. 3 months after you were unfairly fired).
To refer a matter to an employment tribunal, you must download and fill in a form which can be found at www.justice.gov.uk. There are also guidance notes online to assist you with filling in your application. The form can be filled in and submitted online, or printed and returned by post to your local employment tribunal office.
If you want help in referring your complaint to an employment tribunal, you can contact your local Citizens Advice Bureau who will provide you with free advice. If you are a member of a trade union, they may also be able to assist you.
Our detailed guide will help you find out more on what an employment tribunal is, and what will happen during the process.
---
Zero Hours Contracts
If you are on a zero hours contract, much of the above may not apply to your circumstances. We have a guide on Zero Hours Contracts here, which we hope you will find useful.
---
FAQs
How much notice does an employer have to give for a shift change?
The law says that an employer must give "reasonable" notice for a shift change, but does not define a timeframe. A 12 hour notice period to change a single shift would be considered reasonable in most cases. For a bigger change, such as altering a weekly rota, 24 hours would be reasonable.
Can you be forced to work on your day off?
If your day off is specified in your work contract, your employer cannot force you to work on that day. However, It's important to check your contract to see what it says about any requirements to work extra hours. It may say you need to work overtime when required. However, remember that unless you've agreed to waive your rights, you cannott be required to work more than 48 hours a week.
Can my employer change my shift pattern?
If your hours are fixed in your employment contract, your employer cannot change your shift pattern without your agreement. If your shifts are not laid out in your work contract, you may wish to submit a flexible working request.
How much notice should you have of your work rota?
UK law does not lay out how much advance notice you should have of your work rota. It is good practice to give employees a week's notice, however in some industries where needs change quickly, it is common for notice to be much shorter.