There are several warehouse health and safety issues to be concerned with in this work environment. Each staff member should be provided with a health and safety handbook which covers all of the main safety procedures.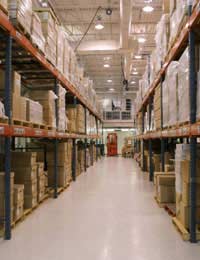 Our guide gives a summary of the main issues which a company operating a warehouse would need to consider.
This is not an exhaustive list, but you need to be strongly aware of:-
---
Fire Safety
We are all familiar with the damage and total destruction that fire can cause to a warehouse. There have been several well publicised large scale warehouse fires.
A warehouse blaze places staff in danger. But it can also affect nearby housing, sometimes causing entire residential areas to be evacuated. All staff should familiarise themselves with the proper procedures to follow in event of a fire.
All necessary workplace fire safety precautions should be put in place to prevent a fire outbreak. Fire extinguishers and fire blankets should be placed in easily accessible locations. It's also important to place the correct type of fire extinguisher to deal with any hazards that have been indentified in a work area. For example, the right extinguisher for electrical fire should be near fuse boxes or major electrical appliances. Staff should be properly trained in how to use them.
---
Staff Training
Warehouse staff do all kinds of different jobs. That means they must all receive the right training and supervision for their job.
This includes workplace training needed to operate any machinery such as fork lift trucks. It can also include equipment such as stock cages and hoists etc. All items used should be, and records of equipment maintenance checks and repairs should be kept up to date.
---
Hazardous Substances
A warehouse can contain substances that might be classified as hazardous. If this is the case, data sheets from the Control of Substances Hazardous to Health (COSHH) and any relevant assessments must be completed and kept up to date.
In a warehouse, hazardous substances at work could include cleaning chemicals, other chemicals which may be stored, forklift gases and engine oil. A COSHH Cabinet might be required to safely store these chemicals
---
Electric and Gas Appliances
There must be stringent procedures in place for both the installation and inspection of all electrical and gas appliances in a warehouse.
Any service, repairs or installations should be carried out by properly registered electricians and CORGI registered gas fitters.
Manual Handling
All staff who will be lifting and carrying objects should receive proper training on manual handling techniques. Tasks can include deliveries and the loading and unloading of lorries, for example.
Incorrect manual handling can cause musculoskeletal disorders as well as causing other injuries and being unsafe in general. Wherever possible, manual handling should be minimised with the use of fork lift trucks and other lifting appliances.
Where manual handling is unavoidable, proper manual handling training must be provided to all staff. Records about the dates and nature of the training must also be kept.
---
Traffic Routes
Warehouse health and safety would include the need to put in place procedures for keeping obstructions clear, and maintaining safe routes for both vehicles and pedestrians.
---
Other Issues to Consider
These would include having visible and clear workplace safety signs for visitors and external contractors. The latter of whom would also need to understand the health and safety procedures relevant to the warehouse.
There would also need to be adequate provision for toilets and rest areas as well as complying with all the relevant legislation concerning heating, lighting and ventilation and things like avoiding slips, trips and falls and any work at height.
It's also important that the person responsible for safety in the warehouse understands how to perform health & safety inspections of the work area.