To comply with COSHH regulations, hazardous materials must be safely stored and handled in the workplace.  This means that you'll need to have procedures in place to minimise or remove risk to workers from exposure to hazardous materials. COSHH cabinets are an effective way to make sure chemicals and flammable materials are managed properly.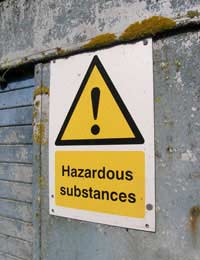 Our guide will look at what COSHH cabinets are, how they should be used, and the types of cabinets that should be used for different hazardous substances.
---
What is a COSHH Cabinet?
COSHH Stands for Control of Substances Hazardous to health. A COSHH cabinet is a specially designed cupboard which will make sure hazardous substances such as flammable chemicals are safely stored in the workplace.
The cabinets are designed to restrict access to workplace substances which may be hazardous to health. They will be locked so that only properly trained staff can access them. Different coloured cabinets are used to identify different types of hazardous material. This is also important from a fire safety perspective.
---
Security & Spill Containment Requirements
COSHH cabinets are lockable to prevent access by unauthorised persons, and should be capable of containing chemical spills.
They must be able to capture and contain 110% of the contents of the largest container being stored in the cupboard.
---
What Chemicals are Stored in COSHH Cabinets?
Several substances are deemed to be dangerous under COSHH legislation.  Chemicals that you should be particularly aware of when considering storage include:-
Flammable Liquids
Gases
Dust
Fumes
Vapours
Biological Agents
However, chemicals that should be safely stored could also include common items such as cleaning chemicals and detergents.
Chemicals are the most common types of hazardous substance within a workplace. You should use a COSHH cabinet or cabinets to make sure they are stored safely in order to reduce risk to employees, the physical structure of the workplace, and the external environment.
---
Who Needs a COSHH Cabinet?
Any workplace that makes use of chemicals deemed to be hazardous may need a COSHH cabinet.  
A business making use of chemicals and storing them on the premises should make a proper risk assessment and determine if a COSHH cabinet is needed.
Here are a few examples of industries which might be making use of hazardous substances which need to be specially stored in a cabinet:-
Pest Control Companies – these types of businesses will need to store different types of pesticide.
Farmers – Pesticides, fertilisers, detergents, disinfectants, and flammable liquids are all used within the agricultural industry.
Commercial Kitchens & Catering – Substances such as cleaning materials, and chemicals that are used in food production will need to be safely stored.
Engineering Workshops –  This work environment has many hazards due to the range of chemicals and hazardous substances in use. Break fluids, lubes, solvents, paints, and degreasing agents will all need to be stored safely and correctly.
All of these types of business, and many more, will need to ensure that hazardous substances are stored properly.
---
How to Keep Hazardous Substances Safely Contained
Keeping hazardous substances and chemicals safely contained is not simply a question of locking away dangerous items in a cupboard.
They must be stored in a particular way. Some types of chemicals must not be stored in the same location, which may mean you need more than one COSHH cabinet.
Types of Workplace Chemicals
Explosives – these can be very dangerous chemicals which pose a high risk of a serious workplace accident, and must be stored alone. The list includes explosives, organic peroxides and self reactive chemicals.
Flammable liquids – the majority of liquid chemicals are also flammable. Some can even self ignite when exposed to air. A thorough risk assessment is needed if you are storing this type of chemical in your place of business. You must follow guidelines carefully when storing liquids in a flammable cabinet. They pose a very high fire risk.
Gas Cylinders – these containers are highly pressurised and can explode when exposed to fire and extreme heat.  Different types of gas will need to be assessed to see if they are flammable, toxic, or both. Some may need to be stored separately depending on the results of your risk assessment.
Other chemicals which may present a safety risk in the work environment can include substances which are a respiratory hazard, or which may cause skin and eye reactions if released.
---
What Type of COSHH Cabinet Should be Used?
There are a few  distinct types of COSHH cabinet, depending on the substances which are to be stored in them.
These are made in distinct colours for ease of identification. They are normally supplied with a range of stickers which can be placed on the exterior of the cupboard to indicate the nature of the chemical risk contained inside.
---
White COSHH Cupboards – Acids & Alkalis
White cabinets are for the safe storage of acids and alkalis. However, the two substances should be stored well apart.
Due to the corrosive nature of these chemicals, the cabinet should be able to withstand exposure to them.  
Acid & Alkali storage cabinets should be clearly labelled with a corrosive substances sticker. This is a red diamond with test tubes in the centre, spilling liquids onto a hand.
---
Yellow or Grey COSHH Cupboards – General Substances
Yellow or grey cabinets are for the safe storage of general substances which may pose a hazard.
Substances such as cleaning products, pool chemicals, caustic soda, and bleach are all examples of the types of substance that need to be placed in a COSHH cupboard. The cupboard needs to lock, and have a spill capture mechanism.
For general cabinets like this a health hazard warning sign is normally used. This is a red diamond with a black exclamation mark in the centre.
Red COSHH Cupboards – Flammable Liquids
Red cabinets are for the safe storage of flammable liquids, or any non liquid substance which is highly flammable.
These COSHH cabinets must be capable of suppressing the spread of fire, giving staff on the premises time to react.
The flammable liquid warning sign should be placed on red COSHH cupboards. This is a red triangle with a black flame in the centre against a white background.
---
Make Sure You Conduct a Risk Assessment
If your business uses chemicals, you need to conduct a risk assessment to make sure you are storing them safely. COSHH regulations are very clear on the need for safe storage, and it's important to make sure your business is in full compliance.
---
FAQ's
Got more questions? Our guide to the most commonly asked questions about COSHH cupboards is here to help you understand how to comply with the regulations.

Does a COSHH cupboard have to be yellow?
A COSHH cupboard does not have to be yellow under Control of Substances Hazardous to Health regulations. However, having colour coded cabinets to store hazardous substances will make it easier for staff to identify the contents of cupboards, and will improve safety in the workplace. Coloured cabinets also have special safety features which will help you meet your COSHH responsibilities.
What goes in a COSHH cupboard?
A COSHH cupboard should be used to safely store any substance deemed to be hazardous under COSHH regulations. This could be a number of substances including bleach, cleaning materials, gas cylinders, solvents, and degreasers.
Do COSHH cupboards have to be locked?
COSHH Cupboards should be kept locked, and the keys should only be held by designated staff members. Anyone handling the contents should have received proper training. The cabinet should never be left unlocked or unattended.
Do i need a COSHH cabinet?
To understand if you need a COSHH cabinet in your workplace, you should conduct a risk assessment. This should look at the types of hazardous chemicals you are handling, and be used to decide how they can be safely stored..