Most high streets boast a few sweet shops. These range from traditional and retro confectionery to modern candy delights. There are many different types of sweets out there, meaning setting up a sweet business can attract a broad customer base.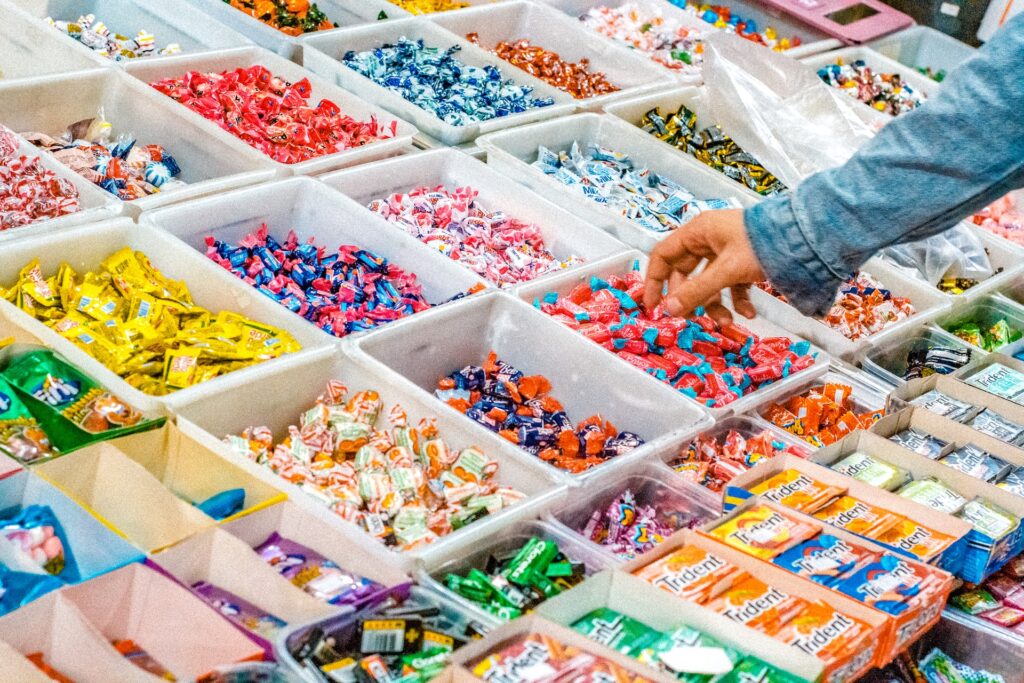 Our sweet business ideas guide will cover what you need to do to get started, key regulations to sell sweets, and give you some business name inspo.
Your confectionery empire starts here.
---
How to Start a Sweet Business
Gaining momentum during the Covid lockdowns, sweet businesses have never been so popular. With so many ways of running them and the extremely low start up costs, they are straightforward to set up.
The main thing to be aware of when selling sweets is the rules you need to comply with. Once you get your head around these, nothing will stop you. Let's take a look at how you can get started with your sweet business.
---
Starting a Sweet Business from Home
Running a sweet business from home has many advantages and means you can keep your costs to a minimum.
It is less risky than putting finances in a shop lease and also means you have much more flexibility. There are so many ways to operate from home while still getting your brand out there. Selling food from home still requires business owners to demonstrate their compliance with UK food laws.
This includes obtaining appropriate insurance and showing an understanding of basic food hygiene.
---
Starting a Sweet Shop
If a business from home isn't for you then you may want to consider opening a sweet shop.
This is somewhat riskier than working from home as it will cost considerably more in terms of a shop lease and stock. However, no business is without its risks and with the right brand, your shop can do very well.
It can be a bit of a risk setting up in the high street in current challenging tradition conditions. Many businesses have not made it through the pandemic.
Online shopping has never been as popular as it is in this climate. That being said, sweet shops do considerably well when advertising and marketing are done correctly.
A market stall can be another option – this can allow you to dip a toe in to retail sales without fully committing to any leases.
---
Tips for Marketing a Sweet Business
There are many options for getting your sweet business started. If you don't have a ton of cash to spend on marketing your new brand, here are our top tips to start selling.
1. Set up a website where customers can order direct.
Websites do not have to be fancy or cost the earth – some are free.
You also do not need to be a tech wizard to get yours up and running. There are so many website templates available for you to adapt.
Services such as Shopify offer the ability to start an ecommerce site at a low monthly cost. If the online aspect of your business takes off, you can invest more into your online presence and branding down the line.
---
2. Create a social media presence.
Social media is an inexpensive, yet popular way of marketing your sweet business.
With an abundance of social media options, you can be set up on various platforms quickly. With so many people using sites such as Facebook, TikTik, and Instagram, it makes sense to create some tempting content.
---
3. Sell your products at market stalls and fairs.
Not only will you make money but you can also advertise your business at market stalls and craft fairs.
Building up your clientele as a self employed businesses owner is vital. Satisfied customers tend to remain loyal to your business and will also tell their friends about you.
Getting your name out there can be tricky, especially in the sweet trade. These events mean you can sell your brand and show people what you are about.
---
Legal Requirements to Sell Sweets
Although a sweet business may seem straightforward to set up, it's important to be aware of the legal requirements to sell sweets. Failing to be aware of your responsibilities can cause issues getting the business off the ground.
It is essential that you are aware of your legal requirements, whether your sweet business is from home or a shop. Failing to comply with the legal side of things may result in your business being closed and income lost.
However, don't worry. Although there are a few things to consider, everything is simple to do.
---
Business Insurance
You need to consider if you need to take out business insurance and which type of policy is most appropriate for your sweet business.
Don't worry though, we have listed them below and you can decide which is the best one for your set up.
---
Public Liability Insurance
You will be dealing with the public whilst selling your products. Public liability insurance offers your business protection against legal claims made against you by a customer or member of the public.
This type of policy covers against claims relating to loss or damage someone suffers as a result of your business, including personal injury.
---
Employers Liability Insurance
If you take on a member of staff, even on a casual basis, it's advisable to consider an Employer's Liability insurance policy.
This type of policy covers you in the event of a staff member pursuing a legal claim against you and your business.
For example, if they slip and fall at work, they could file a case against you for financial loss. Having insurance in place can help protect against the cost of legal fees and any compensation.
---
Business Equipment and Stock Insurance
If you buy a great deal of stock in advance, you may wish to consider business equipment and stock insurance.
This offers you cover for your stock in the event of theft, loss, or damage. Even if you work from home you may still rely on a phone and laptop to run your business.
Keeping lots of stock in your home comes with its risks so extra insurance offers peace of mind.
---
Your Domestic Policy Will Not Cover You
Working from home does not mean you can rely on your home insurance to cover your sweet business.
You need to have insurance specific to your business to be covered legally. Such policies cover your business risks and financial losses which a normal home insurance policy will not.
See also: Legal Requirements to Start a Business – our detailed guide on all the legal requirements for start ups.
---
Do Sweet Sellers Have to Register as a Food Business?
Registering your sweet business with Environmental Health is something to consider.
You need to check with your local council to find out what the requirements are in your area. Many of the rules and regulations depend on the area you live in. Whether you will deal with loose sweets or prepackaged ones, you will need to comply with local regulations.
In the event your local council does require you to register your business then the process is not complicated. It will involve a visit from EHO who will inspect your kitchen to check it is suitable to operate from.
You can prepare for an inspection by making sure your kitchen is clean and tidy. Be sure to have a suitable sink for washing your hands in and keep bins clean. It is also a good idea to have on display your food hygiene certificate and allergens poster.
---
Food Hygiene Requirements
Not necessarily the law, but having basic food hygiene knowledge makes sense when working with sweets you will be selling.
It shows professionalism as well as makes you aware of all the responsibilities you have. The most effective way of showing compliance with food hygiene laws if you are required to register as a food business is by completing a food hygiene course.
You can then show your EHO the certificate when they come to inspect your premises.
See also: Do you need a hygiene certificate to sell sweets?
---
Food Labelling Requirements – How to Package Sweets to Sell
Another element to consider are the legal requirements around food labelling.
You will need to be transparent about all your sweet products by labelling their ingredients. This also means being aware of allergens for packaging purposes.
There are allergen awareness courses you can take which will help you understand your responsibilities around food labelling and the 14 main food allergens.
Food labels, by law, need specific information on them, such as the weight, so it is important to know all of this.
---
How to Promote Your Sweet Business
Promotion is key to a successful sweet business. The more people that know about your business, the more customers you will bring in.
Therefore, establishing good marketing skills from the moment you start trading is a must. Below are some low cost suggestions for promoting your sweet business in the early days.
Online. There are a lot of ways to use the web in your favour when it comes to small businesses. You can make use of social media sites such as Instagram and you can also sell sweets on eBay and Etsy.
Register for craft fairs and local markets. Keep an eye on listings for local events that require sweet stalls. This could be local school events or other markets.
Register your business on Google maps. This will drum up interest and is free to do.
Make a website. Having an easy to navigate website will be helpful for new or repeat customers looking for sweets. There are many free templates to create a website, and some services will charge a small monthly fee for a full ecommerce set up.
Get in touch with local schools and nurseries. They often have events throughout the year where you can sell sweets.
Carboot sales. Set up a weekly table at your local car boot sale. These are very popular in the UK and are a perfect way to get sales. Don't forget to create some business cards and flyers with your social profiles or website listed on them.
---
Sweet Business Name Ideas
Of course, last but by no means least, you need a business name. But how to decide on the perfect brand for your new confectionery business?
We have some tips for you to use when deciding on a name for your sweet business.
Keep the name as simple as possible. Short and sweet works much better than something long winded.
Your business should be obvious from the name you choose.
Make sure no one else in the area has the same name.
Your name should be memorable and rolls easily off the tongue.
Be sure your name isn't too similar to anyone else's in the same business.
Try not to be too specific with the name. You might want to tweak it sometime in the future.
Make the name web friendly. If you are creating your domain then you do not want something complicated.
Take your time. Of course, names can be changed but it is a pain to do so after you've set up a business.
Avoid using anything that can mislead people. Your business name should be clear and to the point.
Make sure the sweet name you choose is available as a domain.
Here are a few sweet business name ideas to get you started. You can tweak and use them to start brainstorming your way to the perfect candy brand!
All Things Sweet.
A Spoonful of Sugar.
The Candy Cane.
Mad About Sweets.
Sweet Retreat
World of Candy.
Sweet Sensation.
The Treat Box.
Fizzy and Fun.
Sweet Dreams
See Also: Cake business name ideas – our massive idea list on cakes and other sweet treats might be helpful!
---
Get Out There & Get Started
Once you've decided how you'll package your sweets to sell, you don't need a huge financial investment to get started. Dip a toe in, and start your new venture!
If you aren't sure if a sweet business is the right venture – why not check out our other business start up guides?
---
FAQ
Do you need a license to sell sweets?
There is nothing in UK law to say you need a license to sell sweets. However, you do need to show you are complying with all food safety regulations. The most efficient way of doing this is by completing a food hygiene course.
Can you sell sweets at a car boot sale?
You can sell your sweets at a car boot sale. You should consider obtaining the appropriate insurance to do so, though.