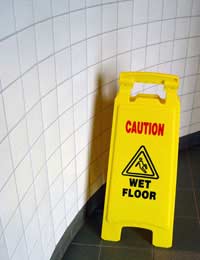 Accidents at work can happen to anybody at anytime. In certain environments, specific types of accidents can be more common than others. For example, you'd be more likely to suffer burns or breathing problems from working with Dangerous Substances than if you worked in an office.
Accidents will always occur from time to time but it is the duty of your employer to minimise the Risks at Work as much as possible as a large number of accidents can often be put down to employer negligence.
Some accidents occur more frequently than others with varying consequences:
Slips/Trips
Manual Handling
Workplace Traffic
Electrical
Chemical/Fire
Plant/Machinery
Head & back injuries
Muscoskeletal injuries
Fractures & Fatalities
Electric Shock
Severe Burns
Amputations & Fatalities
Slips and Trips
It has been reported that almost a third of the total of workplace accidents in the UK are the result of slips and trips. In a vast number of these instances, the accident has occurred in wet or contaminated conditions and most trips are put down to bad housekeeping where substances left on the floor, obstructions, adverse weather and poor flooring have been the cause. A slip or trip can seem minor – in some cases, it can even be a source of humour to some but the startling reality is that they can result in head injuries, broken bones and major fractures to limbs and even death where the fall is from height.
To Avoid Slips and Trips Employers Should Ensure That:
Flooring is suitable and worn flooring is replaced
If ice is prevalent outdoors, it is cleared and the area is sanded or gritted
Trailing cables are hidden away
Flooring is cleaned regularly using appropriate cleaning materials
There are adequate hand rails, guard rails and sufficient lighting in place
Areas that are temporarily wet or slippery are clearly marked
Manual Handling
Once again, around a third of all workplace accidents reported to the Health & Safety Executive, arise as a result of Manual Handling. The term is used to describe any activity that includes lifting, lowering, pushing, pulling, carrying, moving, holding or restraining an object, animal or person. The majority of injuries are musculoskeletal disorders to backs, although strains to hands, arms, feet, tendons and the heart are also reported each year.
To Avoid Manual Handling Injuries Employers Should Ensure:
Carrying is not undertaken over long distances
Lifting or carrying does not require extensive twisting, stooping or reaching upwards
Lifting or carrying does not require any strenuous pushing or pulling
You are not required to carry anything where load movements can be unpredictable, unstable or difficult to grasp
Lifting is done by heavy goods lifting equipment where possible
Your work allows for sufficient rest periods where manual handling is involved
You are provided with health and safety instructions on good lifting practice
Workplace Traffic Accidents
Workplace traffic accidents occur not only in the traditional confines of a warehouse depot with heavy goods vehicles but in any place of work where people can come and go in motorised vehicles. Common accidents include being struck by a moving vehicle, falling from, or materials falling from, a vehicle and the collapse or overturning of a vehicle.
Employers should try to ensure:
They segregate pedestrians and vehicles either by barriers or distance
They minimise reversing, introducing one-way systems if appropriate
Reduce the risks of falls from vehicles
That employees who work as drivers in any capacity are properly trained
Electrical Accidents
Each year, workers lose their life as a result of suffering an electric shock in the workplace, not necessarily just those who work as electricians or with electrical equipment in general. Electrical burns are also a common cause of injury.
Employers should ensure:
All electrical equipment is well designed, appropriate for the job and well maintained
Staff using electrical equipment are fully trained
They give proper warning of any electrical hazards
They provide equipment which has safety cut out devices
They promote safe working practices
Other Areas
The areas mentioned are probably the main causes of the most frequent accidents in the workplace in general. However, other areas to be aware of include:
Working with hazardous chemicals
Working where fire is present
Working with plant and heavy machinery
Whilst accidents can never be predicted, both employers and employees have a duty to minimise the risks as much as possible. Employers are legally bound to carry out a full Risk Assessment of possible accidents that might occur in the workplace and to incorporate preventative measures in their health and safety procedures. Employees also have a duty to understand their company's health and safety procedures fully and to pay due care and attention to their own actions in the workplace to minimise the potential of accidents as much as possible.
Last Updated on 25 May 2021