It might seem like a red flag if an employee is on sick leave and decides to take a break. But can you go on holiday whilst on sick leave? In fact, there are many scenarios where taking a break when off sick is perfectly acceptable.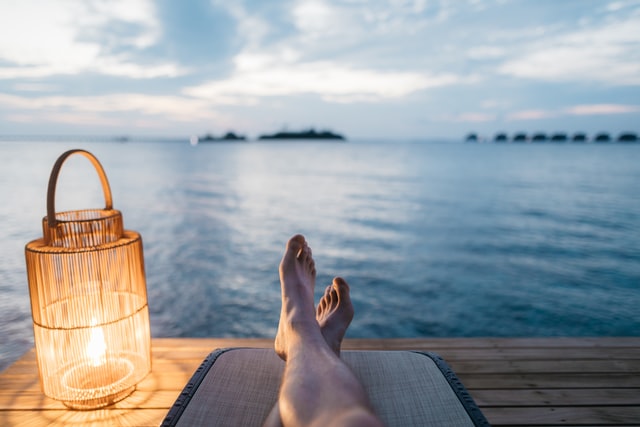 If you're off sick and are wondering if it's OK to take that holiday, or have been signed off sick but have a holiday booked already, our guide will help clarify your rights.
Some employers can be of the opinion that being signed off work means you must remain confined to the house. But being seen out enjoying social activities or engaging in travel is something that many employees are entitled to do.
---
The Law on Holidays During Sick Leave
Being able to go on holiday when off sick depends upon the type of illness being suffered, and symptoms being experienced by the employee.
There are also many cases where taking a holiday would be beneficial to someone recovering from illness.
Taking a holiday when off sick can be justified if an employee is:-
Not well enough to work, but are well enough to travel.
Are off sick long term and holiday would help recovery.
Have a mental health condition such as stress which might be helped by a holiday.
Source: ACAS – Sick Pay & Holiday Pay
If you are concerned about going on holiday whilst off work, or are having issues with your employer, contact ACAS, Citizens Advice, or a Union Representative. They will be able to provide advice about your specific situation and help you advocate for yourself.
Here's a look at some of the more common questions and concerns around taking a holiday during sick leave. These examples should help if you need to have a conversation with your manager about your break.
---
Going On Holiday When Off Sick With Stress or Mental Health
An employee can go on holiday when signed off sick with stress, providing they have given their employer a fit note. In many cases, taking a holiday when off sick with stress or mental health issues can aid recovery.
If you are concerned about clearing this with your employer, you should approach your GP. They may be happy to issue you with a letter confirming a break would support your recovery.
If you have provided your employer with a sick note and your reason for being off does not mean you'd be physically unfit to travel, there is no legal reason for your employer to object.
You should not be subject to any disciplinary action for taking a holiday when off sick. In fact, if your employer prevents you from taking a well deserved break, there's strong evidence that it can worsen stress or other mental health issues.
---
Statistics on Mental Health Benefits of Holidays
There are many studies, surveys, and polls which support the argument for the mental health benefits of holidays.
Sources: [1] Family Holiday Association – Mental Health Benefits of breaks, [2] Marshfield Clinic – Vacations Improve Mental Health Study, [3] Importance of Holidays to Mental Health – Travel Weekly, [4] Employees Failing To Take Holiday – HR Director.
---
If You Are Signed Off Sick But Have a Holiday Booked Already
It can be worrying if you're signed off sick but already had a holiday booked. You might be wondering if you need to cancel your break.
To help you work out if your holiday would be acceptable, consider what would happen if you tried to cancel a break you've already paid for.
If you needed to claim on travel insurance you'd be required to provide medical proof that you were not fit to travel.
If your illness does not prevent you travelling, it is fine to take your break as planned. A reasonable employer shouldn't expect you to cancel a holiday and lose money because your illness wouldn't prevent travel.
---
Can You Travel Abroad When On Sick Leave?
If there is no medical reason on your fit note to suggest you aren't well enough to travel, it is fine to go abroad.  
However, your employer may wish to be notified of the dates you'll be away. It would be reasonable of them to require to you share that information with them.
It will be up to you and your employer to negotiate what type of leave you take during your holiday.
---
Sick Pay & Holiday Pay – Your Rights
It can be confusing when two different types of leave overlap. You can't take holiday leave and sick leave at the same time.
Here's some key rules about holiday pay and sickness, and how they should be managed:-
Holiday pay can be claimed during sick leave. If an employee is on sick leave and takes annual leave, their sick leave is paused for the duration of the holiday. It can then recommence upon their return.
An employer can't require an employee to use holiday leave during sick leave. Up to 4 weeks holiday leave can be carried over if it's unused. It needs to be taken within 18 months.
If an employee suffers Injury or sickness during or right before their annual leave, they can reclaim their holiday entitlement to use another time. However, employers are not always obligated to pay sick pay at the same rate as holiday pay. You should check your employment contract to understand what you are entitled to.
Holiday pay continues to accrue during sick leave. [1]
Source: [1] ACAS – Sick Pay & Holiday Pay.
Ultimately, in most cases there's no reason that you can't go on holiday when off sick. The only exceptions are where you're signed off for a reason that would render you unfit to travel.
Whilst your employer may not be entirely happy, so long as you are well enough to be on holiday, there's no reason for them to say you can't go.
Related Articles
---
FAQs
Can I travel when on sick leave?
It's perfectly acceptable to travel when on sick leave so long as your illness does not mean you are unfit to travel. You can travel within the UK, and also take holidays abroad during time off work due to illness.