It stands to reason that a poorly cleaned kitchen environment will ultimately lead to unsafe foods being prepared. Unsafe foods being consumed will result in food poisoning which can have dire consequences for everyone involved. Thorough procedures must be followed to keep customers safe. Our guide on how to clean a commercial kitchen outlines the steps you should take to keep food safety and hygiene standards high within your business.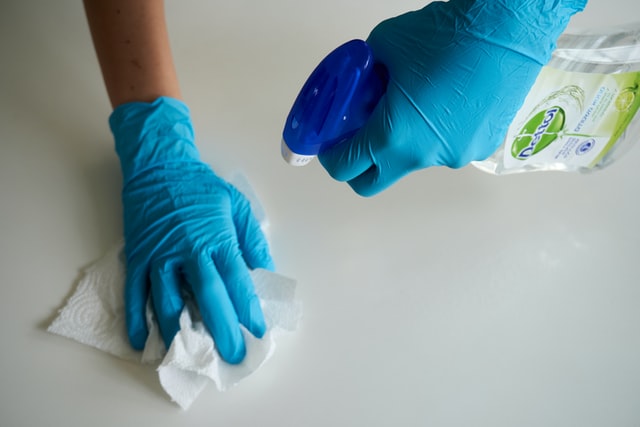 Why Cleaning is Important in a Commercial Kitchen
Commercial kitchens are used much more intensively than their domestic counterparts. Dirt, grease, and debris can build up quickly and cover kitchen equipment and food prep areas. Not only are these a risk to food safety, they can also present a workplace fire safety risk.
Allergens
Improper cleaning can lead to cross contamination in your food preparation area. This could have severe consequences for your business, and the health of your customers. The 14 main allergens must be tightly controlled in your kitchen. Failure to do so could result in legal action.
Food Poisoning
Failing to follow procedures to prevent the spread of harmful bacteria around your kitchen can have severe consequences for your business. Measures such as regularly changing cloths and dishcloths, and not using the same cloth to clean up meat juices and wipe down surfaces are vital.
The Four C's of food safety recognise the importance of keeping commercial kitchens clean and the best methods to employ. Regular staff training on maintaining high standards of cleanliness will ensure everyone understands their responsibilities.
Cleaning is one of the most important of the 4 C's, and a safe food business needs to create strict cleaning procedures and checklists for staff to follow.
Our sample lists give examples of the types of tasks you should be scheduling in daily to keep your commercial kitchen clean and compliant with safety laws.
---
Kitchen Cleaning Checklist
It's important to have a vigorous checklist in place for ensuring the kitchen remains clean and safe. Follow our steps below:
Make sure the appropriate cleaning equipment is being used at all times. Products should always meet BS EN Standards.
Ensure you always follow the instructions on cleaning solutions to ensure you are using the correct strength of disinfectant.
Hands should be kept clean throughout the day but especially in between different tasks and handling raw foods.
Deal with any spillages or mess as you go along so that at all times the surface is safe to work on.
Keep the area as free from clutter as possible and don't let tasks mount up, being efficient throughout the day ensures a much safer work environment.
Regularly change the dishcloths and towels that are in use and make sure there is a separate hand drying towel.
Keep floors clean and other areas such as bins are cleaned down regularly once they've been emptied.
Fridges and freezers should be cleaned regularly along with other areas where food is stored such as cupboards.
Make sure all equipment is washed and dried thoroughly in between uses and cookers, grills, and microwaves are kept clean too.
---
How to Create a Schedule for Kitchen Cleaning
Use our guidelines below to create the perfect cleaning schedule for your kitchen:
Firstly, work out how often each item or area needs to be cleaned as some will need more regular cleaning than others. For example, cupboards won't need cleaning every day but work surfaces will need multiple cleans per day.
Divide your cleaning schedule into multiple daily tasks,  daily tasks, regular tasks, weekly tasks, and less frequent tasks.
List items that need to be cleaned or disinfected so that all staff can see this list.
A thorough schedule should also include full instructions on how to clean the area.
It should also instruct staff on where to appropriately keep all cleaning products.
Including information such as dilutions instructions for each product is a wise idea too,
Any specialist equipment will have specific cleaning instructions so make sure these are detailed on the schedule.
It's important to review your schedule regularly to ensure it covers all aspects of the kitchen and anything new is added.