Around half of UK employees are standing all day at work. In other words, more than 11 million people around the country are spending long periods during their working day on their feet.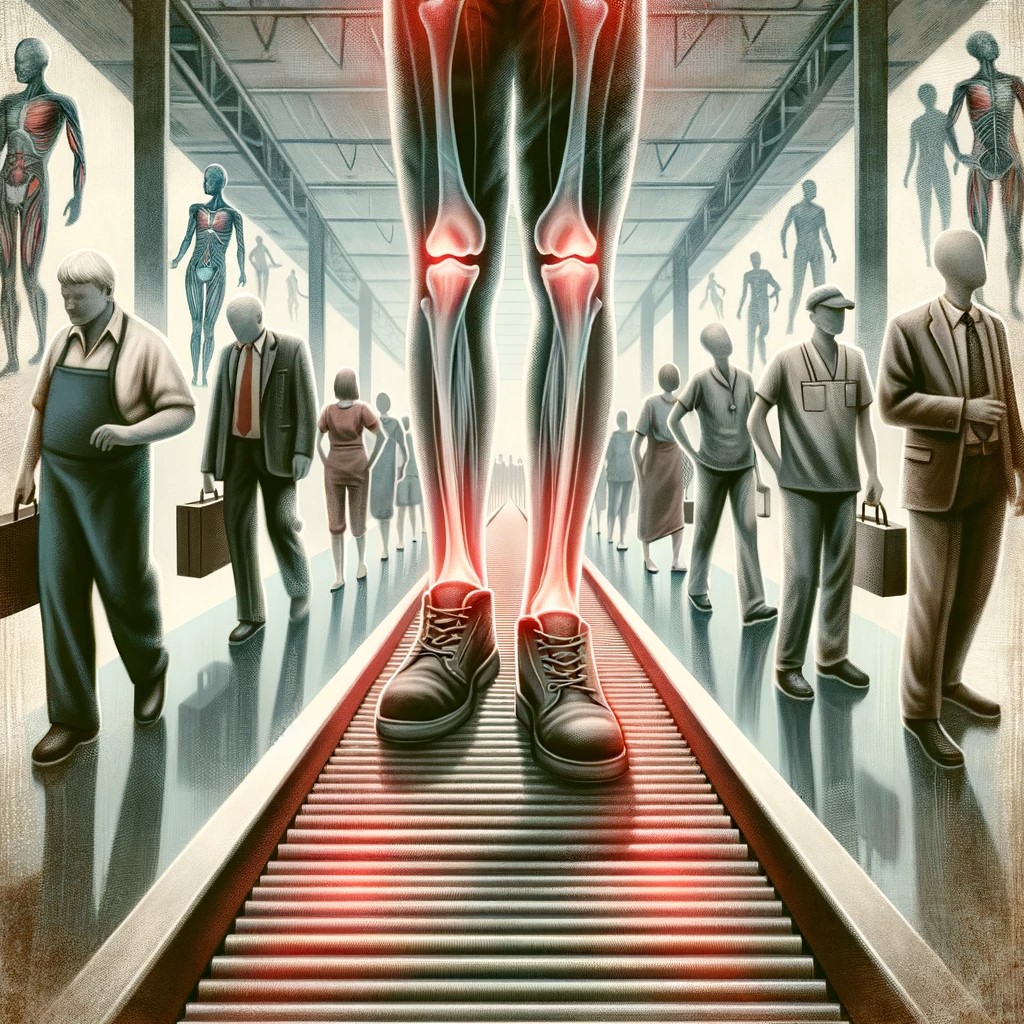 The effect on the nation's health is serious. Standing for long periods causes or contributes to a variety of medical problems.
---
The consequences are not limited to a few aches and pains:-
People who primarily stand on the job are twice as likely to develop heart disease as people who primarily sit.

The Conversation.com – describing results from a study on the impact of occupational standing and sitting. Published August 2017 in Canada.
---
Industries Affected by Standing for Long Periods
Those employees who have to stand all day at work are often in lower-paid jobs such as retail, catering, and hospitality.
Among them are :-
Retail staff.
Assembly line workers.
Security staff.
Engineers.
Catering staff.
Library assistants.
Hair stylists.
Laboratory technicians.
Some of these employees cannot walk to ease the strain on their muscles. They have to remain in place until they are due for a break or it's time to go home.
This can cause health problems for workers who have to spend a lot of time standing in one area as part of their duties.
---
Health Problems and Prolonged Standing at Work
Standing for long periods at work is bad for health because of the strain on the lower limbs. Problems include aching muscles, hazardous pressure on hip, knee and ankle joints, back problems and damaged feet.
Here are just some of the health problems caused by standing all day at work:-
Musculoskeletal Disorders
Prolonged standing at work causes a decrease in blood circulation and reduces nutrient supply to muscles, causing muscle fatigue. These decreases can result in lower limb Musculoskeletal Disorders (MSD's).
The health issues caused by this include:-
Leg fatigue, which also increases the likelihood of trips, slips and falls.
Increased risk of lower back pain.
Neck and shoulder pain due to reduced blood flow.
Issues with blood circulation in the legs, which in turn can cause swelling and varicose veins.
Other disorders which cause damage to veins in the legs, which can cause ankle and foot problems.
Rheumatic disorders caused by lack of mobility around the spine, hips, knees, and feet. Standing for prolonged periods at work can cause joint danage and pain.
Prolonged periods of standing can cause a reduction in joint lubrication. This can lead to issues with hips, knees, ankles, and feet for workers.
---
Commonly Reported Symptoms
Problems with feet include corns and bunions. Standing can also lead to flat feet and heel spurs.
The symptoms people usually experience from spending a lot of time standing during work are lower limb swelling, tiredness and discomfort.
Medical professionals also link standing to varicose veins and a condition known as chronic venous insufficiency (CVI). With CVI, veins cannot send enough blood to the heart.
Another serious condition associated with standing at work is coronary heart disease. Workers may not develop heart disease as a direct result of standing for long periods. But if they have an existing heart problem, standing for hours can make it worse.
Canadian studies make a further connection between ill health and standing. Back pain is twice as likely to occur in workers who stand for most of their working days rather than sit.
Other health issues related to standing include hip and knee arthritis, high blood pressure, and locking of joints.
---
UK Employment Law on Standing
The Workplace (Health and Safety) Regulations 1992 refer to standing. The law says that employers must supply suitable seats if workers are able to perform their duties, or a substantial part of them, sitting down.
No prosecution of an employer under this law has taken place. There have been five improvement notices served on employers. These notices have insisted upon seats for workers. All the employers complied. Compared with the number of employees who spend all day standing at work, this is a very low figure.
---
Employer's Viewpoint of Standing at Work
Part of the reluctance to encourage workers to sit is down to the employers perception of how seated workers look to those visiting the business. Employers believe that staff who are standing create a better impression with customers.
In some instances, workers themselves may feel it's rude to be sitting when dealing with members of the public. However, no one accuses professionals such as solicitors and doctors of being rude when they sit behind desks and see patients in their offices.
To make matters worse, health and safety researchers often fail to appreciate the damage standing causes. Professor Messing of the University of Quebec in Montreal is an expert in prolonged standing. She says researchers don't take standing seriously because they work in an environment where they have the choice to stand, sit or walk away from their workstations. Many employees who stand all day don't have this freedom.
---
Solutions to Prolonged Standing
Sitting down all the time at work is not a solution. Prolonged sitting also causes a range of health problems.
The best advice, endorsed by experts in the field, is to:
Cut the time workers spend standing or walking.
Arrange for work surfaces to have adjustable heights so workers can alternate sitting and standing.
Arrange rest breaks with employers.
Ensure adjustable chairs are available.
Making sure posture is good and lifting and carrying tasks are carried out with care.
These goals are not necessarily easy to put in practice. Employers may have to make significant changes to workstations. But the long-term benefits can offer a good return on investment. One estimate, for example, says the UK loses two million working days a year because of lower limb disorders.
Our guide on how to deal with standing all day at work has practical hints and tips to stay healthy at work.
---
Anti Fatigue Mats & Footwear
The right flooring and footwear have roles to play as well. Hard concrete floors, a common feature in factories, are the worst of all surfaces to stand on for long periods. There is absolutely no flexibility to concrete. Carpeting, rubber, cork and wood are far better surfaces.
If these more suitable surfaces are impractical, anti-fatigue mats can help. These mats provide just the right amount of cushioning to make standing easier. They also have sloped edges to prevent trips.
Mats mustn't be too soft, however. Soft mats can actually increase the feeling of tiredness in backs and legs.
As for footwear, this must be practical and comfortable. It should not pinch the feet or toes; insoles should be shock absorbing; and heels must be no higher than five centimetres.
Further Reading: Why do my feet hurt so bad after work? A detailed guide on work related foot pain, and how to alleviate it.
---
Standing at Work FAQ's
Here's some commonly asked questions from workers who are concerned about what prolonged standing.
Does standing on concrete hurt your body?
Standing on concrete can cause several health conditions if done for prolonged periods. Commonly reported problems include back pain, bunions, and shin splints. It can also worsen pre-existing health conditions such as arthritis.