Most of us are familiar with the potentially lethal danger of carbon monoxide poisoning in the home. However, any enclosed space which contains equipment and appliances burning fuels also poses a risk. This includes workplaces and enclosed work sites.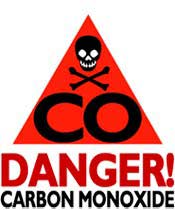 What Causes Carbon Monoxide Poisoning?
Carbon Monoxide (CO) is produced as a direct result of an incomplete combustion of fuel. That means there are many devices which have the potential to cause carbon monoxide poisoning in the workplace. This is especially true if damaged or poorly maintained.
These can include:
Furnaces and water heaters.
Room heaters and central heating systems.
Cooking and canteen appliances.
Portable generators.
Vehicle engines run in enclosed and poorly ventilated spaces, and faulty exhaust systems.
Blocked or damaged chimneys.
When you're running a car engine and even a charcoal barbecue, they will produce Carbon Monoxide. Although in these examples, it's relatively harmless as the activity is conducted in open spaces outdoors.
Within the workplace however, it could be fatal. Vehicle garages and mines are just two of the more common places where Carbon Monoxide would be present but it can be found in most industrial type premises and in any workplace which is heated by gas.
Any appliance which is gas, petrol or wood fuelled has the potential to be a killer if it's not properly maintained or operated in a well ventilated area.
---
Reducing Risks from Carbon Monoxide at Work
Poorly maintained, ageing and defective appliances alongside poor ventilation are the primary causes of carbon monoxide poisoning in the workplace.
A thorough risk assessment is crucial on all relevant equipment and appliances. A risk assessment will address various aspects of the machinery's location, standard and operator usage including:
Adequate ventilation.
Regular checks/servicing.
The presence of (regularly tested) carbon monoxide monitors.
The manner in which the machinery is operated.
Defective equipment is one of the biggest causes of Carbon Monoxide poisoning so things such as ventilation, exhaust systems etc should be kept well maintained.
---
Detecting Carbon Monoxide in the Workplace
Carbon monoxide poisoning has often been referred to as the 'silent, deadly killer' as you can't see, hear or smell it.
The risks are more commonly associated with domestic settings. The workplace environment might not seem to be the kind of place where you might think you would be at risk. However, think again especially if you are working in a confined space.
Carbon monoxide detectors are cheap and easy to install in any area of the workplace.
---
Symptoms of Carbon Monoxide Poisoning at Work
In the early stages of carbon monoxide poisoning, you might start to experience non-specific symptoms which can vary from person to person.
In general, these can be similar to those you might experience if you had flu but without a high temperature. These symptoms might include:-
Nausea.
Dizziness.
Headache.
Abdominal pain.
Stomach upset.
Sore throat.
Persistent cough.
One of the surest signs that carbon monoxide is present in the workplace is if these symptoms start to diminish when you leave work and return home only to re-emerge when you're next in work. This is possibly more noticeable after you've returned from, say, a week or twos holiday. More evidence would be where several of your colleagues are also experiencing similar symptoms.
It's often useful to ask around other work colleagues to see if they've experienced similar symptoms. If you're still in any doubt, you should seek medical help. A simple blood test will usually be enough to detect the presence of Carbon Monoxide within your body.
---
What can I do if I Suspect Carbon Monoxide at Work?
If you or your colleagues are experiencing anything like to the symptoms that are outlined above, you should immediately inform your health and safety manager at work. They are obliged to carry out a thorough investigation.
Your employer must act upon any evidence that''s provided to them and must take all possible steps to eliminate or reduce the chance of exposure to carbon monoxide.
Should they fail to do so they are breaking the law. Carbon monoxide poisoning can be proven through blood tests whether or not you have more than the acceptable levels of carbon monoxide in your blood.
Your employer has a duty of care to keep you safe. Failure to do so is treated very seriously under UK health and safety law. You have the right to take your employer to court for compensation if they have put you at risk.
---
Carbon Monoxide at Work Examples
It's not a thing of the past either…here are just a couple of instances where carbon monoxide poisoning has affected employees in the past couple of years:
August 2013 – Workers and customers were taken to hospital suffering from carbon monoxide poisoning at a beauty salon in Newton, Denbighshire.
January 2014 – Two groups of channel tunnel workers were hospitalised within 24 hours of each other, suffering from the effects of carbon monoxide poisoning.