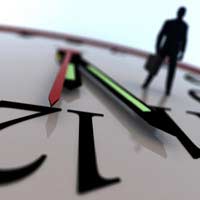 Q. I have been asked to work nights, I have no one to look after my son on some of the nights I am wanted to work. There is still a day shift running on the section that I am currently working on. What are my rights to stay on the day shift if my employer trys to force me to work nights?
A.D, 1 June 2009
---
A.
The Issues
The suggestion that an employer may force someone to work nights is certainly worrying. Employers who take this approach upset staff and damage their companies' reputations.
Furthermore, it's clear from the question that this employee cannot work nights. After all, on some occasions there'll be no one at home to look after a child.
First Point
The first point to make is that an employer cannot force someone to change shift patterns. This is unreasonable. There's a potential problem in the way this situation may unfold, however.
If an employer tries to force a member of staff to work nights, and the member of staff refuses, such a confrontation is bad for everyone involved. The member of staff may win in the short-term; but in the medium to long-term, the employer may prove difficult over other issues such as granting time off.
Communication
One way to avoid harmful confrontation is for both sides to talk to each other in a sensible way. More than likely, the employee will have to make the first move.
The best course of action is to speak to the appropriate manager. Explain why a change to the night shift is impractical. Most managers will respond positively.
If the manager isn't sympathetic, speak to the HR section. Again, explain the situation and ask to stay on the day shift.
Flexible Working
If the HR section takes the manager's side, or your company doesn't have an HR professional, then discuss flexible working.
Employees have a legal right to ask for flexible working. To make such a request within the law, an employee mustn't be an Agency Worker; must have worked for the company for 26 weeks or more; and mustn't have made a similar request in the past year.
Employees must also give a reason for the request. The three eligible reasons are:
caring for a child aged 16 or under
caring for a disabled child under 18 who is receiving disability living allowance (DLA)
caring for certain adults
In this question, the employee is not asking to change hours as part of a flexible working arrangement but to stay on the day shift. Because the request is not to change, the employer may seize on this and still try to force the employee to work nights. If so, the employee needs to point out that once on the night shift, he or she will demand the legal right to Flexible Working. This will lead to a return to the day shift in order to care for the child.
Last Updated on 25 May 2021