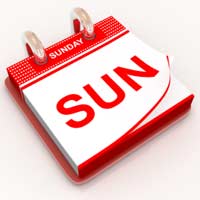 Over the past few years, Sundays have changed from the tranquil relaxation at the end of a hard working week to a day when people choose to do their weekly grocery shop, visit their garden centre or opt to visit a leisure attraction.
To many people, this flexibility has changed their lives for the better but with the relaxation of the laws governing Sunday working arrangements, so we have also seen disgruntlement from unhappy employees.
In general, we now have to accept that working on a Sunday is becoming more commonplace and it's important to get clarification on whether or not you will be expected to work on a Sunday before you begin any new job as any employer has the right to ask you to work on a Sunday if that forms part of your employment contract. Gone also are the days when the occasional Sunday shift allowed you the opportunity to work the same hours for "double time" – i.e. double the rate at which you would usually be paid for doing the same job and same amount of hours. Today, if you sign an Employment Contract which states that you have to work on a Sunday, your employer is not compelled to pay you any additional money above your usual rate of pay, although some may still pay you extra to work on a Sunday.
However, special rules apply to those who work in shops and betting shops.
Shop and betting workers in England and Wales have the right to refuse to work on a Sunday, and are protected against dismissal, selection for Redundancy or any other kind of detrimental treatment, for example, the refusal or training or scope for promotion.
To qualify to opt out of Sunday working you must be:
A shop worker who has been with the same employer since 25 August 1994 or earlier
A betting worker who has been with the same employer since 2 January 1995 or earlier
A Shop or betting worker who cannot be required to work Sundays under the terms of your contract
You can give up this right only by giving a written, signed and dated opt-in notice to their employer and then agreeing what Sunday work you are willing to do.
All other shop and betting workers can opt out of Sunday working if they want, giving 3 months' written notice without reason.
If you are an employer and you have any shop or betting workers who are or may be required to work on Sunday, you must give them a written statement explaining their opt-out right. If you fail to do this within 2 months of their employment start date, they only need to give one month's opt-out notice.
Shop and betting workers should note that even if they have decided to opt-in to work on a Sunday, they have the right to change their minds and opt-out.
The Sunday working rules apply irrespective of age and length of service but they don't apply to those who just work on a Sunday.
Similar rights were extended to shop and betting workers in Scotland on 6 April, 2004. In Scotland, however, automatically protected employees are only those whose contracts cannot require them to work on Sundays. Those whose contracts require, or may require, them to work on Sundays will have to opt-out and serve a 3 month notice period if they are no longer willing to work on Sundays. This is regardless of whether or not they were employed in shop or betting work before or after 6 April 2004.
Further information on Sunday working rules and regulations can be found on the Department of Trade and Industry (DTI) website.
Last Updated on 25 May 2021