Overhead power lines carry highly dangerous amounts of electricity. It's important to maintain safe working distances from overhead power lines. The lines are a common feature of our urban and rural landscapes. It is essential to exercise great care when working close to power lines. The lines kill an average of two people each year. Many others receive serious injuries.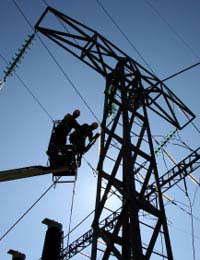 Minimum Height For Overhead Electric Cables
The overhead electri cables strung between pylons and poles should be a minimum height from the ground. These distances vary according to the voltage the lines carry.
Lines that have up to 33 kV of power must be at least 5.2 m from the ground.
Lines with up to 132 kV should be 6.7 m or more from the ground.
Lines that have up to 400 kV must have a minimum clearance height of 7 m.
Safe Minimum Heights & Machinery
These minimum heights may seem safe, with minimal risk to worker safety. But employers and workers need to consider them in the context of mobile machinery when deciding upon safe working distances.
A machine that lifts heavy items, for instance, can have an arm that easily exceeds 5.2 m. And a ladder jutting out from the top of a lorry could reach 7 m or higher. These risks whilst working around overhead cables and pylons should be assessed before work starts.
---
Safe Working Distances From Power Lines & Risks
There are a number of hazards to consider when assessing workplace risks around overhead lines. Consider the following when determining safe working distances from overhead power lines on your job site:-
Conductors & Overhead Lines
Accidents with overhead power lines don't just happen when machinery comes into contact with the cables. Fishermen have knocked them with their rods; workers moving long pieces of metal have touched the lines; and some people have sent jets of liquid onto cables.
In all these instances – and more – the overhead power line has discharged electricity. This has caused death or a very bad shock.
Proximity to Overhead Power Lines
The other cause of concern is proximity to an overhead power line. It's not always necessary to touch the line to get a shock. Sometimes, close contact generates a potentially lethal electrical charge.
Again, when performing a workplace risk assessment these potential work hazards should be considered and safety measures put in place. This will ensure workers maintain appropriate safe minimum working distances at all times.
Complacency Around Overhead Cables
These dangers may appear obvious. Many people might ask: why would you approach an overhead power line with something that could touch it?
Unfortunately, some workers become complacent. They are so used to seeing power lines, they forget about them. Furthermore, some lines aren't easy to spot. They are parallel to objects such as the tops of hedges and forests. It is important to have strict protocols for wokers to follow around power lines.
---
Risk Assessments for Power Lines
Any employer with workers who may come into contact with overhead power lines must do a Risk Assessment. This should consider the risks the lines pose to the workforce; the measures that reduce or eliminate the risks; and those actions that can ensure complete safety.
There are a number of key issues. The first is to avoid overhead power lines whenever possible. But if this is impractical, the next best thing is to ensure that any machinery and equipment cannot reach them.
Check the heights of the power lines and the size of machinery.
Also check the vertical reach of diggers and load handling equipment.
Train staff to be aware of overhead power lines.
Don't make the assumption that everyone knows how dangerous the lines are.
Also control the use of liquids near power lines. Water or slurry can cause a current of electricity to jump from the lines. This can then enter the body of the person working the liquid pump.
Above all, it's wise to plan ahead. Overhead power lines are an avoidable cause of death and injury and maintaining safe working distances is essential.
Further Reading:-
HSE guide to working safely around overhead power lines.