Cyber Bullying at Work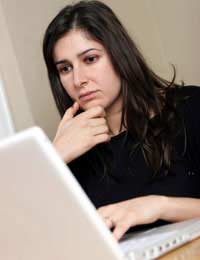 Cyber bullying has long been more closely associated with the intentional bullying of children online by their peers and is often more associated with teenagers. However, adults and the workplace are not immune to cyber bullying and it can manifest itself in many different forms. Nobody is immune to cyber bullying but there are steps you can take and support you can go to if you feel you have become a victim of cyber Bullying at Work.
Cyber Bullying at Work
A range of different examples of bullying at work using electronic means would include:
Offensive e-mail – sending offensive e-mail to a colleague even if it's supposed to be a joke in which a person might be offended by the content of the message or any photographs which are attached to it and continuing to do send similar messages having been asked to stop
E-mail threats – this can also include relatively inoffensive messages in terms of content but the implied meaning behind the message can constitute a form of bullying. An example of this might be where a superior is bombarding you with far more work than you can handle whilst other members of the team are not being treated in the same way
Posting blogs and comments left on social networking sites – quite often a person may not experience any direct form of cyber bullying but instead the bullies are leaving nasty or offensive comments about them on blogs and social networking sites which can often be viewed by others. This intimidation would also fall under the umbrella of cyber bullying
Spreading lies and malicious gossip - social networking sites and blogs are usually the most common ways in which people become victim of another person's cyber bullying
Cyber Bullying SMS/Text Messages
It doesn't need to even be your e-mail at work, any threats or offensive comments you make about somebody to their mobile phone is still a form of cyber bullying
Cyber bullying harassment - electronic cyber bullying, or 'e-bullying' as it is often referred to, can also result in instances where the person may not even intend to harm you. For example, you may experience an admirer at work who would like to establish a closer friendship or relationship with you and they'll sometimes use e-mail to 'test the waters' first as the fear of rejection is often far less if an approach is made that way. However, people have been rightfully prosecuted for Sexual Harassment where persistent e-mails follow, especially if they have been rejected. This has even led to cases of stalking outside work.
Sharing a person's private data online - cyber bullying can take on a much more sinister meaning when people post up personal details about you which are available to the general public and which you wouldn't normally want to share with complete strangers. This can include leaving home addresses and phone numbers for all to see
Dealing with Cyber Bullying at Work
Whether it's e-bullying or face-to-face, there are laws surrounding both harassment and bullying in the UK and you can take legal action if you feel you have become the victim of an internet bully. Firstly, however, you should try to resolve the problem with the person directly if you know the identity of them. In some cases, it might be true that what you thought was offensive was not perceived as such by the sender and there has been some misunderstanding. Therefore, it's often quite easy to nip this in the bud.
If the bullying persists, you should go and speak to a manager or Union Representative if you have one to discuss the situation and to obtain support. There are also a number of useful websites available if you think you have a case to take further action. Fortunately, most companies will have strict policies on the use of e-mail and the internet at work and a person can lawfully be dismissed if the company policy is ignored or abused.
Cyber bullying is no less unpleasant than conventional bullying and always remember that you are protected in just the same way as conventional bullying by the law. As for external cyber bullies who are operating outside your workplace, your work IT department should be able to stop this activity and can also take steps to identify the perpetrators. As for offensive spam or junk mail, however, we've all had to learn to live with receiving offensive or unpleasant e-mail from time to time. Fortunately, this is rarely personal and we should all learn to simply ignore and delete it.
You might also like...